Category
Investigación científica
Salud
Infancia
Enfermedades raras
El próximo 10 de Julio de 2021 voy a hacer un Half Trianthlon (2 km nadando, 90 km en bici y 21 km corriendo) a favor de las personas con Piel de Mariposa, una enfermedad rara, dolorosa e incurable hasta la fecha. En España unas 500 familias la sufren.
Por ello te pido que colabores conmigo para recaudar fondos que mejoren su calidad de vida.
Puedes hacer una donación aquí o en este número de cuenta poniendo en el concepto "Nada, pedalea y corre por la Piel de Mariposa"
BANCO DE SABADELL SA Beneficiario: DEBRA ESPAÑA IBAN / BIC-SWIFT: ES35 0081 0244 1100 0185 4991 / BSAB ESBB
Me ayudas?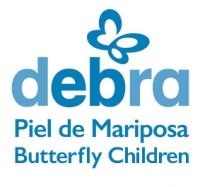 Imagina no poder abrazar a tu bebé por miedo a hacerle daño. La Piel de Mariposa es una enfermedad de tipo genético, rara e incurable que provoca una extrema fragilidad de la piel, causando heridas y ampollas por todo el cuerpo ante el más leve roce. Su piel es tan frágil como las alas de una mariposa
Una de cada 227 personas somos portadoras del gen defectuoso que provoca la enfermedad, por lo que esta puede irrumpir en cualquier familia de forma inesperada. La Asociación Piel de Mariposa (DEBRA España) es una organización sin ánimo de lucro que trabaja para mejorar la calidad de vida de los afectados y sus familias. Tú también puedes aportar tu granito de arena. www.pieldemariposa.es
About DEBRA, the Butterfly Children Charity:
Imagine not being able to hug your baby because you are afraid of hurting it. Because it was born with a rare genetic condition called Epidermolysis bullosa (EB) also known as Butterfly Skin. An incurable condition that causes blisters and wounds with the slightest touch. The skin is as fragile as the wings of a butterfly. DEBRA, the Butterfly Children Charity is a non-profit organization that works to improve the quality of life of those affected and their families.
If you would like to know more about DEBRA, the Butterfly Children Charity and our work please visit www.butterflychildrencharity.com
Donators
(24)
Carreras Solidarias Los intocables
Adrian
Hidden donation
765 days ago
Anonymous
Hidden donation
784 days ago