Category
Investigación científica
Salud
Enfermedades raras
During this 2021 all my pedaling will go to give wings to those families who every day have to fight with this type of disease, the Butterfly Skin.
I will perform several tests of self-sufficiency on the bike, two of them are the Gran Guanche in the Canary Islands, consisting of crossing the Canary Islands from La Graciosa to El Hierro.
The other test will be the North Cape 4000 which consists of riding 4000 kilometers starting from Italy in Lago Di Garda to reach the North Cape in Norway crossing 11 countries.
Everyone who wants to collaborate by buying kilometers (1km=1€) will be welcome, the money raised will go to the association 'DEBRA Piel de Mariposa'.
Butterfly Skin is a rare disease that causes a strange skin fragility. Due to a genetic mutation, causing the skin to detach and break with the slightest friction. This disease has no cure.
In addition to the skin, which is the most visible part, the digestive, ocular and respiratory mucous membranes are also affected, causing significant disability to patients. Since new-borns are subjected to multiple treatments, medical and surgical interventions, which leads to a significant loss of quality of life. Since 1993 the association Debra-Piel de Mariposa brings together those affected, families and professionals who look after the interests of these patients.
If you want more information I leave here below the links to the website and social networks, I also leave a link to my social networks in case you want to follow my adventures:
https://www.pieldemariposa.es/
https://www.instagram.com/pieldemariposa/
https://www.instagram.com/xinolugo/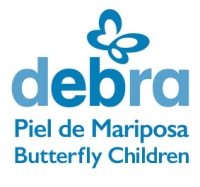 Imagina no poder abrazar a tu bebé por miedo a hacerle daño. La Piel de Mariposa es una enfermedad de tipo genético, rara e incurable que provoca una extrema fragilidad de la piel, causando heridas y ampollas por todo el cuerpo ante el más leve roce. Su piel es tan frágil como las alas de una mariposa
Una de cada 227 personas somos portadoras del gen defectuoso que provoca la enfermedad, por lo que esta puede irrumpir en cualquier familia de forma inesperada. La Asociación Piel de Mariposa (DEBRA España) es una organización sin ánimo de lucro que trabaja para mejorar la calidad de vida de los afectados y sus familias. Tú también puedes aportar tu granito de arena. www.pieldemariposa.es
About DEBRA, the Butterfly Children Charity:
Imagine not being able to hug your baby because you are afraid of hurting it. Because it was born with a rare genetic condition called Epidermolysis bullosa (EB) also known as Butterfly Skin. An incurable condition that causes blisters and wounds with the slightest touch. The skin is as fragile as the wings of a butterfly. DEBRA, the Butterfly Children Charity is a non-profit organization that works to improve the quality of life of those affected and their families.
If you would like to know more about DEBRA, the Butterfly Children Charity and our work please visit www.butterflychildrencharity.com