Many thanks for your contribution. I am really glad I can be instrumental to your small contribution to fight such genetic disease. I'm sure both he Association and the people that are suffering from cancer will incredibly appreciate your contribution.
So you can know more about who are you contrubuting to, the Spanish Association against Cancer, is a non-profit, private social entity which has been declared of public utility. It was founded in 1953. The mission of the AECC is the fight against cancer leading the efforts of the Spanish society to decrease the impact of this disease and to improve the people's quality of life. Four main strategic pillars guide the activities of the association: information & awareness, cancer patients support, research, and advocacy & lobbying. It is a nation wide organisation with 52 provincial delegations and more than 2.000 local delegations. The association counts on more than 109.000 members, 14.000 volunteers and 730 workers to develop its activities. In 1971, the AECC established its Scientific Foundation which main purpose is to improve cancer research in Spain. The Asociacion Española Contra el Cancer became a full UICC member in 1962.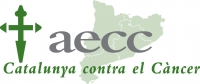 La aecc integra en su seno a pacientes, familiares, personas voluntarias y profesionales que trabajan unidos para prevenir, sensibilizar, acompañar a las personas, y financiar proyectos de investigación oncológica que permitirán un mejor diagnóstico y tratamiento del cáncer.