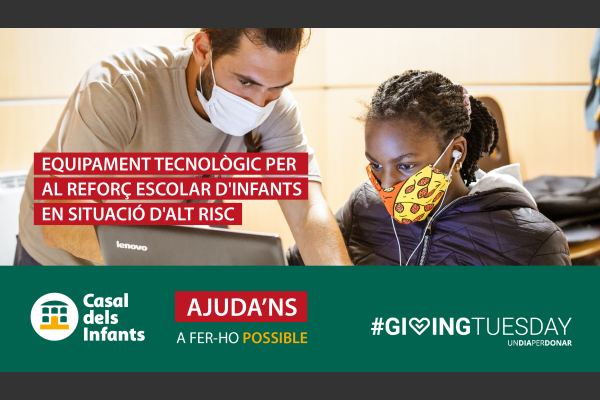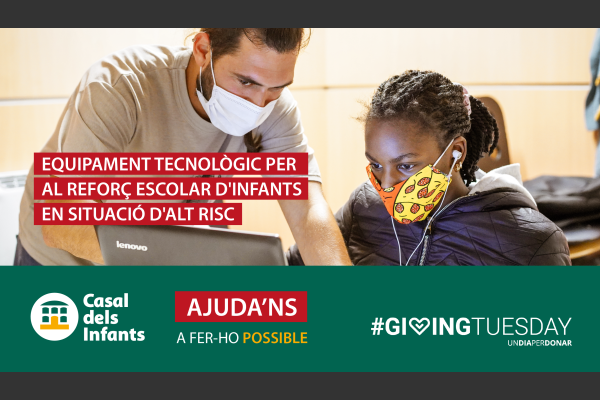 #GivingTuesday success story: Casal dels Infants
10 December 2020
The day of #GivingTuesday is undoubtedly one of the key dates of the year for social entities to raise funds. It is a day that meets all the requirements for a well planned and communicated campaign to develop successfully and to achieve the economic objective that is proposed:
a

day

in

which

solidarity

is

promoted

from

the

social,

business

and civil

spheres

.

A

day

that

follows

#BlackFriday and #CyberMonday

appealing

to

generosity

after a

weekend

of

consumption

.

A

day

in

which

the

press

echoes

the

solidarity

movement

and #GivingTuesday

becomes

a

trending

topic

.
However, despite these facilities, not all the organizations that participate in the campaign succeed in their efforts to carry out their #GivingTuesday project.
What makes one campaign successful and another not? What strategy must be carried out for a campaign to be successful?
The NGO Casals dels Infants created its challenge #GivingTuesday: "Technological equipment for the school reinforcement of 80 boys and girls at high risk" on November 18, in less than two weeks it had reached its collection goal of 3,200 euros. Julia Peña, from the organization's fundraising team, has explained to us how they have achieved this:
"We have based ourselves on a 100% digital strategy, greatly enhancing the dissemination of the campaign on social networks and carrying out email marketing actions with our database.
We devised the campaign trying to make the challenge as tangible as possible from a need we had: the lack of technological resources for school reinforcement activities. For this reason, and as the title says, the challenge was created with the objective of raising funds to invest in technological equipment for 80 students.
With regard to Social Media strategy, since the launch of the campaign we have programmed different publications and Stories on Facebook, Twitter, LinkedIn and Instagram in an emergency key. We also invest in Facebook Ads to spread and call for action on the campaign. To have more visibility and get new donors we used the #GivingTuesday and specific graphic materials in which it was identified as the #GivingTuesday campaign. We wrote a piece of news on the blog of our corporate website for Casal dels Infants to improve organic positioning and generate links to the migranodearena campaign.
Regarding the emailing campaign, within our database we segment our dissemination strategy: on the one hand, we create a campaign aimed mainly at leads, to get new donors, and another for recurring donors. We also send volunteers from the entity encouraging them to spread the word about the challenge and to participate.
Once the campaign is over, we send an email of thanks to all the challenge donors and we have started to work on a strategy to retain new donors. "