Category
Discapacidad intelectual
Infancia
Jóvenes
La misión de la Fundació Nexe es de ofrecer a los niños y niñas con graves discapacidades la atención y el apoyo para que puedan disfrutar de todos los derechos de la infancia y una calidad de vida.
La Fundació Nexe tiene un Parvulario que trabaja para potenciar las posibilidades de desarrollo que cada niño tiene, mejorando su calidad de vida y de relación con el entorno, mediante una atención continua que tiene en cuenta sus necesidades médicas, pedagógicas y psicológicas.
Para más información visitar la página web: www.nexefundacio.org/ .
Gracias por tu ayuda!
[ENG]
The mission of the Fundació Nexe is to offer children with severe disabilities the care and support so they can enjoy all the rights of children and a quality of life.
The Fundació Nexe has a Nursery School which goal is to help these children to strive by aiming to their individual achievements, improving this way their life's quality and interaction with their surroundings, thanks to continuous attention that takes into account their medical, pedagogical and psychological needs.
For more information visit their website: www.nexefundacio.org/.
Thank you for your support!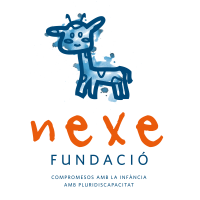 En Nexe Fundació trabajamos desde hace más de 40 años con la misión de mejorar la calidad de vida de los niños/as con pluridiscapacidad y la de sus familias, y defender sus derechos.

A través de nuestros cuatro servicios de atención a la infancia y siguiendo la dinámica de una escuela infantil ordinaria, ofrecemos a los niños/as de 0 a 6 años con pluridiscapacidad un espacio de atención precoz específica e individualizada, desde una visión global de su desarrollo educativo, sanitario y psicosocial, a la vez que acompañamos a sus familias, para que puedan conciliar sus proyectos personales y profesionales con el cuidado 24 horas/7 días a la semana que requiere un hijo o hija con grandes necesidades de apoyo.

Así mismo, realizamos actividades de ocio para niños/as y jóvenes hasta los 21 años, respetuosas con sus habilidades e intereses personales. que también constituyen un espacio de conciliación y autocuidado para sus familias.