Nuestra lavadora (que es muy viejita) está a punto de dejar de funcionar definitivamente. La hemos arreglado muchísimas veces, pero ahora las reparaciones están siendo más caras que comprar una nueva.
Sos Gats estamos muy comprometidos con nuestro planeta, sería incongruente para nosotras salvar y cuidar cada día vidas animales, y descuidar el medioambiente.
Toda nuestra ropa (mantas, toallas, etc) es de segunda mano y no la tiramos cuando está sucia, sino que alargamos su vida todo lo que podemos. En resumen, que hacemos unas cuantas lavadoras a lo largo de la semana y la hacemos trabajar muchísimo.
Tampoco queremos gastar fortunas en la factura de la luz, porque queremos destinar el dinero que recaudamos en cuidar la salud de nuestros animales.
Tenemos a nuestro cargo: 54 gatos, 26 palomas, 7 cotorras , 4 pericos, 2 conejos, 2 tortugas, 1 rata, 1 cobaya, 7 gallinas, 1 gallo y 3 perros. Todos son mayores, esto significa que vamos muchas veces al veterinario, y que necesitamos medicaciones y comidas especiales.
Por todo esto queremos comprar una buena lavadora: con potencia y con calificación energética A+.
Toda ayuda, por muy poco que creas que es, es enorme para nosotras.
¿Te animas a ser parte de nuestra lavadora?
------- English:
Our washing machine (which is very old) is about to stop working permanently. We have fixed it many times, but now the repairs are being more expensive than buying a new one.
SosGats are very committed to our planet, it would be incongruous for us to save and care for animal lives every day, and to neglect the environment.
All our clothes (blankets, towels, etc.) are second-hand and we don't throw them away when they are dirty, but we extend their life as long as we can. In short, we do a few washers throughout the week and we make it work a lot.
Nor do we want to spend fortunes on the electricity bill, because we want to allocate the money we collect to take care of the health of our animals.
We are in charge of: 54 cats, 26 pigeons, 7 parrots, 4 parakeets, 2 rabbits, 2 turtles, 1 rat, 1 guinea pig, 7 chickens, 1 rooster and 3 dogs. They are all older, this means that we go to the vet many times, and that we need special medications and foods.
For all this we want to buy a good washing machine: with power and with an A + energy rating.
Any help, no matter how little you think it is, is enormous for us.
Do you dare to be part of our washing machine?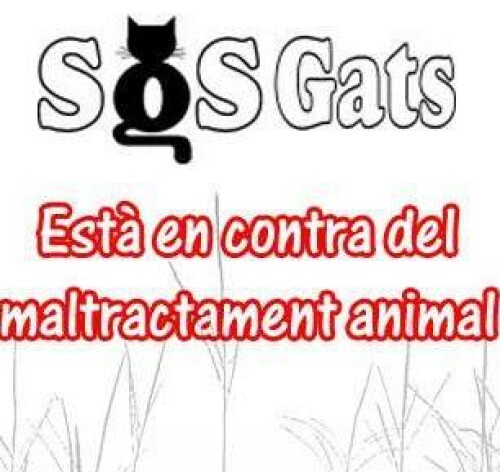 Somos un pequeño refugio/santuario que intenta mantenerse a flote a a pesar de las deudas veterinarias y los gastos de manutencion de nuestros inquilinos de 4 patas.
Tras rescatar y reubicar a todos los gatos de las vias del tren de zona La Sagrera hasta La Maquinista y de Mercat Nou, desde el año 2006, hemos ayudado a lo largo de casi de 15 años, a esterillizar y cuidar colonias de gatetes en Barcelona y alrededores.
Ahora necesitamos mucha ayuda para mantener a nuestros yayitos y las colonias que dependen de nosotros, apenas tenemos socios y muy pocos Teamers, por lo que hacer frente a las facturas de pienso y veterinaria nos resulta imposible, os pedimos ayuda por favor, no podemos salir de esto solos y mucho menos continuar ayudando a mas animales, nuestras deudas de veterinario a dia de hoy alcanzan casi los 5.000€.
Nunca hemos mirado a otro lado cuando nos han pedido ayuda, siempre de una manera u otra hemos intentado echar una mano, ahora somos nosotros quienes suplicamos que nos ayudeis por favor, no podemos más.
Muchas gracias