EN
As part of their many initiatives, Firmenich is gathering together people to run against cancer. For those of you who want to support the initiative come run with us!
If you are not able to be there, do not worry. Support us and AFANOC in the distance by donating here.
Firmenich is the world largest privately-owned fragrance & flavor company and its purpose is to create positive emotions and enhance wellbeing, naturally.
ES
Como parte de muchas de sus iniciativas, Firmenich nos anima a correr contra el cáncer. Si quieres ayudarnos en esta misión, únete al equipo!
Si no puedes estar allí con nosotros, no te preocupes. Puedes ayudar AFANOC desde la distancia, haciendo tu donativo.
Firmenich es la companía privada más grande del sector de fragancias y aromas. Su propósito es crear emociones positivas y promover el bienestar, naturalmente.
CAT
Com a part de les seves iniciatives, Firmenich ens anima a córrer contra el càncer. Si vols ajudar-nos en aquesta missió, uneix-te a l'equip!
Si no hi pots ser amb nosaltres, no et preocupis. Pots ajudar a AFANOC des de la distància, fent el teu donatiu.
Firmenich és l'empresa privada més gran del sector de fragàncies i aromes. El seu propòsit és crear emocions positives i promoure el benestar, naturalment.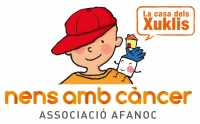 La Asociación de Niños con Cáncer AFANOC trabaja y ayuda a los niños y niñas con cáncer y sus familias. Estamos en hospitales, realizamos actividades, apoyamos a las familias a nivel social y psicológico, y damos alojamiento a las familias que vienen a recibir tratamiento con la Casa de los Xuklis