Your contribution has tax benefits of up to 80%
Category
Inserción social
Educación
Refugiados
Cooperación internacional
Can you imagine living an hour walk away from the closest supermarket and not having access to a car or any kind of public transport? This is the living situation of all inhabitants of Nea Kavala refugee camp, in northern Greece.
Nea Kavala refugee camp is an hour walk away from Polykastro, the main urban center of the area. Because of that, the 1500 people who live in it must go through long journeys in order to cover basic needs such as buying groceries and also in order to have access to educational and cultural programs organized by the Open Cultural Center (OCC).
This is just another discrimination factor on top of the long list of challenges faced by those who live in the refugee camp. At OCC we are fighting to bridge the gap between the city and Nea Kavala. Since the 13th of July, we have opened a free bus service that connects the inhabitants of the camp to the city.
This project helps fight the frustration related to the long journeys to the city and creates a higher motivation for the people who couldn't attend the OCC classes simply because they didn't have time or the weather didn't allow. Most importantly, the bus makes OCC's educational activities possible and more efficient.
However, our tools are not always enough, and that's why we need your help… Help us meet our 3.500€ goal! 5€, 10€, 15€… any help will be welcome! With a donation of 20€, you will cover the full cost of one bus journey between Nea Kavala and OCC's classes. If you donate 100€, you will be making possible a whole day of bus service for the inhabitants of the camp! Once we collect 2000€, a matchfunding will allow us to get to 3.500€, which will guarantee 175 free bus journeys between Polykastro and Nea Kavala, freeing our beneficiares of thousands of dangerous walks in the heat!!!
Can you help us?
Access to transport is another visible face of inequality in our society!
Contribute, share, get involved!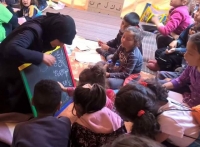 Open Cultural Center es una organización sin ánimo de lucro que lleva a cabo programas educativos y culturales en los campamentos de refugiados y zonas urbanas de Grecia donde los casos de migrantes más vulnerables están siendo reubicados.
Nuestro trabajo se realiza a través de voluntarios de todo el mundo, refugiados de la comunidad y locales griegos, cooperando y trabajando en la misma línea y basándonos en las necesidades de la comunidad.
En Grecia, impartimos clases de griego e inglés a niños y adultos, tenemos un espacio de mujeres, un jardín de infancia, actividades deportivas para hombres y mujeres, un taller de ordenadores y un punto para buscar trabajo y realizar CVs. También realizamos actividades culturales como música, costura, arte, yoga para todos los públicos. Todas estas actividades ayudan a mejorar la integración cultural, social y laboral de los habitantes de los campos.
Desde nuestro centro en Cataluña, también tenemos programas de inclusión sociolaboral y realizamos acciones de sensibilización a través de la educación: impartimos charlas en colegios e institutos, exposiciones itinerantes de fotografía, impartimos clases de árabe, etc.