Category
Salud
Cooperación internacional
Medio ambiente
Con el nuevo año, nos hemos adentrado en un nuevo proyecto. Queremos conseguir fondos para restaurar una de las guarderías de la comunidad y que pueda continuar abierta, para que los más pequeños puedan comenzar su educación como se merece! En Sri Lanka, el acceso a la escuela es gratuito, pero a las guarderías no. Muchas familias que trabajan no pueden permitirse llevar a sus hijos a la guardería por el gasto que conlleva. La situación actual es que apenas 4 niños van a la guardería, y las familias pagan de forma muy intermitente, por lo que los sueldos de los profesores no son estables. La situación de la guardería se encontraba muy al límite y a punto de cerrar. Es por eso que hemos decidido comenzar un nuevo proyecto, restaurar el centro e intentar recaudar fondos para empezar a pagar los sueldos de las profesoras, para que las familias puedan llevar a sus hijos allí de forma gratuita y puedan seguir trabajando para mejorar la economía de casa. Nos ayudas? No olvides que llevamos a cabo otros proyectos en nuestro centro, y sólo con tu ayuda esto sigue adelante! Gracias por estos cuatro años de apoyo!
With the new year, we have entered a new project. We would love to get funds to restore one of the nurseries of the community and that it can continue open, so that the little ones can begin their education as they deserve! In Sri Lanka, the access to school is free, but it is not free to go to the nursery. Many working families cannot afford to take their children to a nursery because of the expenses involved. The current situation is that only 4 children go this center, and families pay very intermittently, so teachers' salaries are not stable. The situation of the nursery was very close and about to close. That is why we have decided to start a new project, restore the center and try to raise funds to start paying teachers' salaries, so that families can take their children there for free and can continue working to improve the economy of their houses. Can you help us? Do not forget that we carry out other projects in our center, and only with your help this go ahead! Thank you for these four years of support!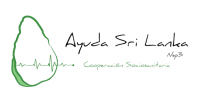 Ayuda Sri Lanka NSP3 fue fundada para intentar mejorar la calidad de vida de los habitantes de las aldeas afectadas por el Tsunami de 2004 en Sri Lanka.
\"NSP\" son las siglas de 'nitharama sathutin project'. Nitharama sathutin significa siempre feliz en sinhala, idioma hablado mayoritariamente en la isla de Sri Lanka.
NSP3 es una ONGD (Organización No Gubernamental para el Desarrollo), que está registrada en el Registro Nacional de Asociaciones de España con el número 590.167, y en la AECID (Agencia Española de Cooperación Internacional al Desarrollo) con el número 1865. nuestro NIF es el G85377598.
El trabajo de NSP3 se basa en tres pilares principales:
* AYUDA MÉDICA Y SANITARIA
* AYUDA DESTINADA A LA CREACIÓN DE EMPLEO
* PENSIONES COMPENSATORIAS