De Madrid a Segovia por las vías pecuarias del Camino de Santiago, 100 kms de carrera a pie en formato NON STOP con un máximo de 21 horas para realizarlo. Ese es el próximo reto personal, y con motivo solidario, que me he propuesto para el siguiente 17 de Septiembre, sin duda el mayor hasta la fecha.
Todos los fondos recaudados serán íntegramente destinados a Yes With Cancer (Sí Con Cáncer), una asociación sin ánimo de lucro que nace con la finalidad de ayudar a todas las personas enfermas de cáncer y a sus familiares.
¡Cualquier ayuda será bien recibida, COMPARTE y aporta tu GRANO DE ARENA! ;)
Compartiendo el reto se entrará automáticamente en el sorteo de varias pulseras y camisetas de YWC.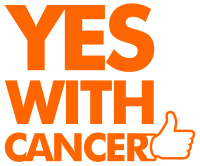 Yes With Cáncer es un proyecto que nace de la experiència personal de Gabriel Rojo su Presidente y fundador, que en noviembre de 2013 es diagnosticado de un linfoma. Tras el colapso emocional inicial decide que esta enfermedad no detendrá su vida y poco a poco junto con el tratamiento de quimioterapia va realizando actividades como yoga , Pilates , natación , caminar , ciclismo , nadar y runnig de manera que comienza a realizar retos deportivos como carreras y triatlones para dar a conocer la asociación y demostrar que "CON CANCER SE PUEDE".
Nuestros objetivos como asociación son destinar el 100 % de lo recaudado a la ayuda de enfermos de cáncer mediante apoyo emocional, nutricional, deportivo y económico. Para ello defendemos la vida activa y la actitud positiva frente a la enfermedad y creemos en el deporte como método de prevención tratamiento y rehabilitación de la enfermedad de cáncer.