To benefit
Fundación Iñaki Ochoa de Olza – SOS Himalaya
La experiencia de Nepal nos hizo darnos cuenta de que queríamos seguir ayudando a la gente del Langtang, que lo ha perdido todo. Por eso queremos contribuir a recaudar fondos para la ONG SOS Himalaya y así contribuir a la reconstrucción de 116 casas para que los habitantes de Langtang que se quedaron sin casa tras el terremoto puedan volver a su tierra como antes.
Toda la información: www.summitsofmylife.com/nepal
CAT: L'experiència del Nepal ens va fer adonar-nos que volíem seguir ajudant a la gent del Langtang, que ho ha perdut tot. Per això volem contribuir a recaptar fons per l'ONG SOS Himalaya i així col·laborar en la reconstrucció de 116 cases perquè els habitants del Langtang que es van quedar sense casa després del terratrèmol puguin tornar a la seva terra com més aviat millor
Tota la informació: www.summitsofmylife.com/nepal
ENG: After our experience in Nepal, we want to continue helping the people of Langtang, who have lost everything. We would like to collect funds for an NGO SOS Himalaya which has plans to help build 116 houses for the few Langtang residents who survived, to enable them to return home after their homes were destroyed during the Nepal earthquake.
More info: www.summitsofmylife.com/nepal
FR: Cette expérience au Népal nous a permis de nous rendre compte que nous voulions continuer à aider les habitants du Langtang, qui ont tout perdu. C'est pour cela que nous souhaitons, grâce à ce film, récolter des fonds pour SOS Himalaya, afin d'aider construire 116 maisons qui permettront aux quelques habitants du Langtang qui ont perdu leur maison lors du tremblement de terre de rentrer chez eux.
Plus d'infos: www.summitsofmylife.com/nepal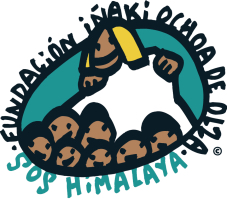 Fundación Iñaki Ochoa de Olza – SOS Himalaya tiene sede en Pamplona y su contraparte en Nepal.
Fue fundada en septiembre de 2009, por la familia de Iñaki Ochoa de Olza, montañero navarro fallecido en 2008 a 7.400 m de altitud en la arista sur del Annapurna cuyo rescate fue tan épico como imposible. Canal+ le dedicó uno de sus episodios en su programa Informe Robinson que podéis ver clicando en el link.
Nuestra misión es conservar y difundir la memoria de Iñaki Ochoa de Olza y la consecución de sus proyectos de cooperación inacabados en vida: la construcción de un Orfanato, un Hospital y una Escuela en (indistintamente) Nepal, Pakistán e India, donde se encuentran los niños más desfavorecidos de los tres países que albergan montes de más de ocho mil metros de altitudSOS Himalaya, se sostiene gracias a los socios y amigos de Iñaki, donativos anonimos y alguna pequeña subvención pública.
Desde septiembre de 2009 y hasta el terromoto que asoló Nepal en abril de 2015, gestionamos un orfanato y rehabilitamos varias escuelas.
A raiz del terromoto reconstruimos másde 290 viviendas y 13 escuelas en el valle de Langtang, gracias a la colaboración con las fundaciones de Killian Jornet y Edurne Pasaban. También realizamos 4 campamentos médicos en diferentes zonas con el pediatra asturiano y también alpinista, Jorge Egocheaga.
SOS Himalaya-Nepal está dirigida por Mingma Dorji Sherpa amigo y compañero de Iñaki en decenas de expediciones.

Desde 2016 enfocamos todos nuestros esfuerzos a ayudar en el valle del Makalu, especialmente en Seduwa.
Allí hemos rehabilitado un edificio abandonado por otra ong, y lo hemos transformado en centro de salud, o Health Post, con personal paramédico que atiende partos, enfermedades comunes y accidentes leves. El objetivo final es convertirlo en un Hospital con un quirófano que pueda atender cirugia menor.
Terminada la primera fase del proyecto, mientras recaudamos fondos para la segunda, que es la dotación del quirofano, nos embarcamos en un mini proyecto: \\\"El comedor Saludable de la Escuela de Seduwa\\\"
A la escuela de Seduwa, asisten más de 300 niños, de los cuales 30, se quedan internos. Estos niños tengan la edad que tengan, se tienen que cocinar ellos, por lo que normalmente mal comen. Hemos contratado a Chandra Khumari, que se va a encargar de cocinar para ellos, dándoles un menú equilibrado y saludable.
¿Nos ayudas?