To benefit
Associació Protectora d'Animals de l'Anoia - APAN
(CAT) DE QUIN COLOR HI VEUEN ELS GOSSOS? LA MEIGA, DE CAP.
La Meiga és una gosseta de 10 anys, sorda i cega. La ceguesa va ser causada per cataractes i pell excessiva a les parpelles, per això el dia 6 de novembre la van operar per retirar tot l'excés, baixar la inflamació del crani i poder recuperar una part de la visió.
Però la Meiga també és una gosseta molt forta i, tot i la complexitat de les dues operacions, se n'ha sortit molt bé. Ara, però, es troba en al refugi recuperant-se de les intervencions. Nosaltres necessitem ajuda per poder cobrir les despeses veterinàries, ja que entre medicaments, operacions i consultes, el pressupost s'eleva molt.
El refugi APAN té aproximadament 200 animals a qui cuidar, alimentar, donar medicacions… diàriament. Necessitem la vostra ajuda per poder fer front a les despeses de la seva operació! Tota ajuda, per poca que sigui, serà molt benvinguda.
Les operacions sumen un total de 307€ (com podeu veure a la factura), on hi hem d'afegir uns 100€ de medicació i post-operatori. Us donem les gràcies a tots els que ens esteu ajudant!
(ESP) DE QUÉ COLOR VEN LOS PERROS? MEIGA, DE NINGUNO.
Meiga es una perrita de 10 años, sorda y ciega. Su ceguera fue causada por cataratas y piel excesiva en los párpados, por eso el día 6 de noviembre la operaron para retirar todo ese exceso, bajar la inflamación del cráneo y poder recuperar una parte de la visión.
Meiga es una perrita muy fuerte y, pese la complejidad de las dos operaciones, le ha ido muy bien. Ahora, sin embargo, se encuentra en el refugio recuperándose de las intervenciones. Nosotros necesitamos ayuda para poder cubrir los gastos veterinarios, ya que entre medicamentos, operaciones y consultas, el presupuesto se eleva demasiado.
El refugio APAN tiene aproximadamente 200 animales a los que cuidar, alimentar, dar medicaciones... a diario. Necesitamos vuestra ayuda para poder hacer frente a los gastos de su operación! Toda ayuda, por poca que sea, será muy bienvenida.
Las operaciones suman un total de 307€ (como podéis ver en la factura), a los que se tienen que añadir unos 100€ de medicación y post-operatorio. ¡Estaremos muy agradecidos a todos los que nos ayudéis!
(EN) WHICH COLORS DO DOGS SEE? MEIGA, NONE.
Meiga is a 10-year-old dog, deaf and blind. Her blindness was caused by cataracts and excessive skin on her eyelids, that's why on November 6 she underwent surgery to remove all that excess, reduce the inflammation of the skull and try to recover some of her vision.
Meiga is a very strong dog and, despite the complexity of the two surgeries, she has done very well. Now, however, she is in the shelter recovering from the procedures. We need help to cover the veterinary expenses, because the cost of medicines, operations and appointments is too high.
APAN shelter has about 200 animals to look after, to feed, to give medication to... every day. We need your help to cover the costs of the operation! Any help, no matter how small, will be very welcome.
The operations add up to a total of 307€ (as you can see on the invoice), and we have to add about 100€ of medication and post-operative to those. We are so grateful to all the people who are helping us!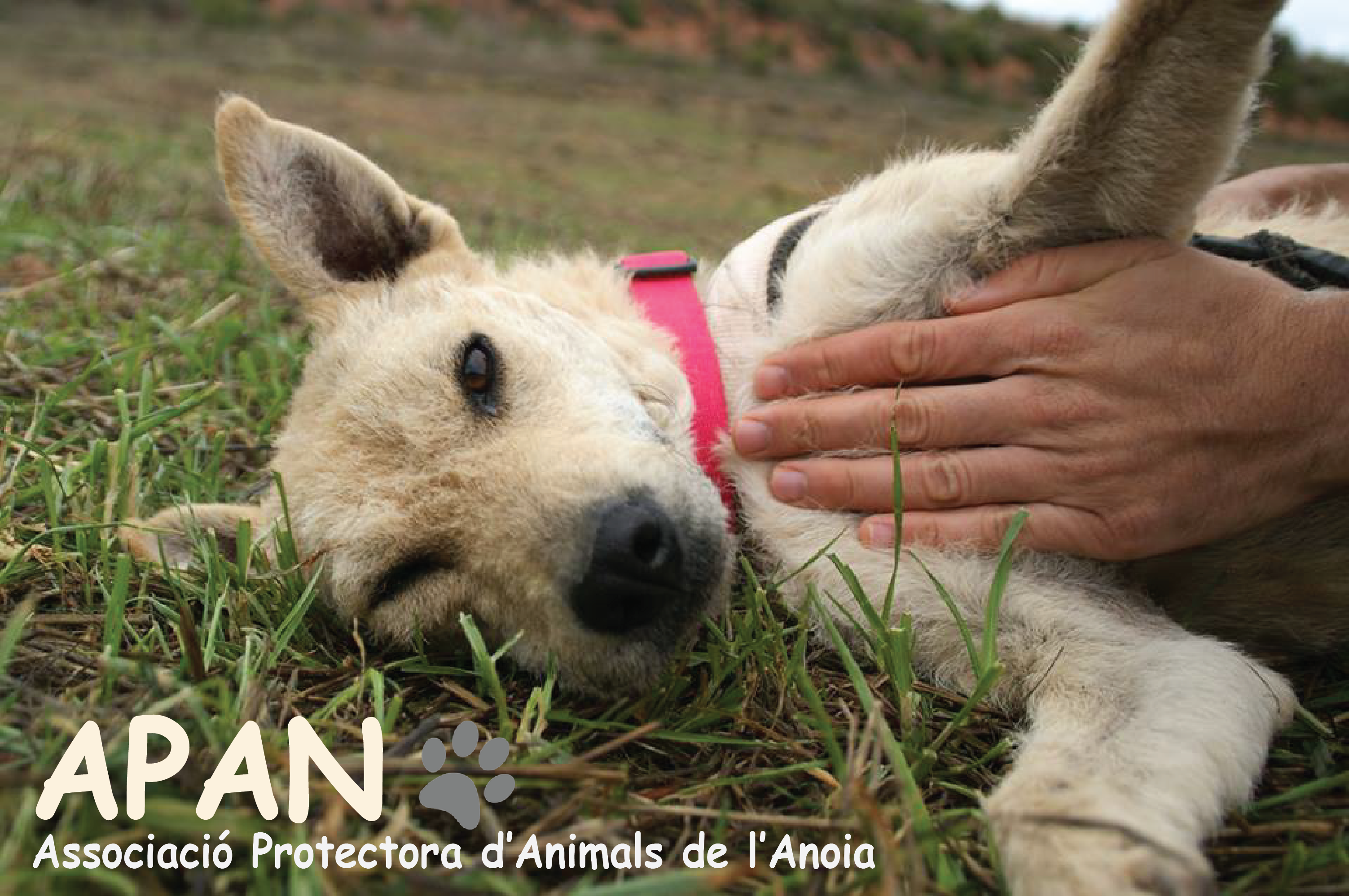 La Associació Protectora d'Animals de l'Anoia (APAN) tiene como objetivo principal luchar contra el abandono y maltrato animal. En su refugio se cobijan 50 perros, 30 gatos y algunos animales de "granja". Todos a las espera de una segunda oportunidad! ¿Nos ayudas a continuar ayudándolos?