Category
Salud
Infancia
Cooperación internacional
Son pocas las oportunidades que tenemos para colaborar tan de cerca con los menos afortunados, por lo tanto cada que vez que lo hagas, haz que merezca la pena. Ayúdanos a recaudar dinero para Amigos de Nyumbani, una ONG que se encarga de niños huérfanos por causa del SIDA en Kenia.
Queremos aportar nuestro granito de arena. El 22 de abril de 2018, en Madrid se disputa la Rock 'n' Roll Madrid Media Maratón (21,1km) que Marta y Pablo correrán. Queremos hacerlo con un objetivo mucho más grande e importante que la propia meta, queremos hacerlo por los más desfavorecidos de Kenia; los huérfanos de Nyumbani. ¡Nuestro objetivo no es la meta, si no el empleo de estos niños!
Nyumbani en swahili significa HOGAR. Nyumbani es el hogar de cientos de niños huérfanos en Kenia por causa del SIDA, una de las enfermedades más devastadoras de la historia. Se estima que en Kenia hay 1,2 millones de huérfanos, de los cuales 100.000 son seropositivos.
Desde Amigos de Nyumbani, queremos patrocinar el proyecto de microcréditos. Una iniciativa creada para buscar una salida económica sostenible para los chicos y chicas que se gradúan de los talleres de Formación Profesional (carpintería, metalurgia, peluquería y sastrería) en Nyumbani Village, financiando el desarrollo de su pequeño negocio. De esta manera pueden conseguir una independencia económica y que les ayude a salir adelante por ellos mismos. Es el paso definitivo que culmina el proceso educativo al permitir que los chicos pongan en práctica todo lo aprendido durante los años de enseñanza. Amigos de Nyumbani no sólo los ayuda a escapar de la trampa de la pobreza, sino también a contribuir positivamente a la actividad económica y social de su familia, de la colectividad a la que pertenecen.
Entre todos podemos aportar nuestro granito de arena. Os animamos a que aportéis lo que podáis, que intentemos entre todos hacer un mundo mejor. Estos niños necesitan nuestra ayuda. ¡Nuestra meta no es el tiempo, si no alcanzar cuantos mas microcréditos posible!
Juntos podemos conseguir este reto. Nosotros vamos a luchar por Amigos de Nyumbani. ¿y tú?
***
It is not often that you get to collaborate so closely with those less fortunate; therefore make every opportunity count. Help us raise money for Amigos de Nyumbani, an NGO that cares for HIV-affected orphans in Kenya.
We want to do our part. On April 22 2018, the Rock 'n' Roll Madrid Half Marathon will be held in Madrid (21.1km), which Marta and Pablo will run. We want to do so with a goal much greater than the finish line itself, our goal is the employment of these children.
Nyumbani means home in Swahili. Nyumbani is the home to hundreds of HIV-affected orphans in Kenya. HIV is one of the most devastating diseases in human history. In Kenya, there are roughly 1.2 million orphans, of which 100,000 are affected by HIV.
Within Nyumbani, we want to sponsor the microcredits project. The objective of this project is to find a sustainable exit for the orphans that have attended the polytechnique institute at Nyumbani by sponsoring their small businesses upon completion of the degree. For four years at the polytechnique they develop carpentry, welding, hairdressing or tailoring skills. This is the final step of the educational process as it allows the children to utilize the hard and soft skills learnt not only through the last four years at the polytechnique institute, but also during primary education received by Nyumbani as well. Therefore, it is an imperative step in completing the orphan's development cycle. This final step is not only beneficial for the orphan, but it also helps contribute economically and socially to the broader community.
Together we can accomplish this challenge. We encourage you to help with however much you can so we can help start as many new business as possible and together we can make this world a better place. Our goal is not the time achieved, but to fund as many microcredits as possible!
These children need our help. We are going to fight for Amigos de Nyumbani, are you?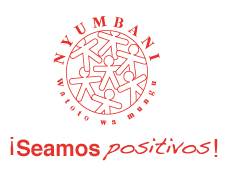 Amigos de Nyumbani es una asociación sin ánimo de lucro creada para apoyar a la ong Nyumbani, proyecto keniata de atención integral a la infancia víctima del VIH, sus familias y comunidades, dando apoyo alimenticio, médico y educacional y creando oportunidades que les permitan recuperar su autonomía