Category
Discapacidad intelectual
Infancia
Jóvenes
HCCG has been contributing with Nexe Foundation since 2007
The Foundation is an organisation that takes care of kids with severe/multiple disabilities and special needs.
The Foundation offers a day-care centre for kids up to the age of 6. They give tailor-made treatments such as physiotherapy, cognitive stimulation speech therapist, workshops and other activities for kids and the parents.
We are aiming to raise 2000 euros for the Foundation so that they can continue their human and social work.
Help us achieve our goal!!
Thank you!!!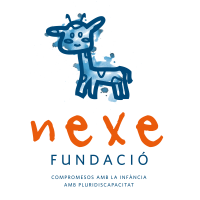 En Nexe Fundació trabajamos desde hace más de 40 años con la misión de mejorar la calidad de vida de los niños/as con pluridiscapacidad y la de sus familias, y defender sus derechos.

A través de nuestros cuatro servicios de atención a la infancia y siguiendo la dinámica de una escuela infantil ordinaria, ofrecemos a los niños/as de 0 a 6 años con pluridiscapacidad un espacio de atención precoz específica e individualizada, desde una visión global de su desarrollo educativo, sanitario y psicosocial, a la vez que acompañamos a sus familias, para que puedan conciliar sus proyectos personales y profesionales con el cuidado 24 horas/7 días a la semana que requiere un hijo o hija con grandes necesidades de apoyo.

Así mismo, realizamos actividades de ocio para niños/as y jóvenes hasta los 21 años, respetuosas con sus habilidades e intereses personales. que también constituyen un espacio de conciliación y autocuidado para sus familias.