Your contribution has tax benefits of up to 80%
Category
Salud
Ayuda humanitaria
Cooperación internacional
We started this campaign to rebuild the most affected hospitals
With your help we can:
Buy beds, essential and vital medicines, medical supplies, oxygen cylinders
Rebuild the walls and the building
Highlights:
More than 2700 health centers have been destroyed
5 million people have been displaced
Now more than ever they need healthcare
I share some of the testimonies that we are experiencing these days and that show the harshness of the situation:
The Afar region is one of the most impoverished and affected, where the Dubti General Hospital is located.
A hospital that cares for a population of more than 350,000 people, with more than 130 deliveries per month.
Sick people, people with burns and gunshot wounds from the conflict do not stop arriving at the Dubti Hospital and the hospital is facing great difficulties in being able to provide proper care.
"People are running in absolute fear in all directions," said an aid worker in Afar, who asked not to be identified.
"It has massacred innocent people, looted and destroyed various institutions and displaced more than 300,000 innocent people," the statement said, without giving further details.
"A badly burned boy has arrived, whose father told aid workers that his two sons aged 9 and 11 had been injured when shell fire hit his house."
" You will witness how life is unfair and death is selfish when a fifteen years old child is shot in his chest, has massive bleeding and without any tools you are forced to insert a water bottle as a chest tube. Despite all your efforts death wins."
"When a laboring woman presents to an empty hospital & when she tells you it's been eleven days since her water broke and after repairing a broken fetoscope you identify No Heartbeat."
"When you entered to a town hours after its liberated and witness an empty hallway ransacked previously called referral hospital which you personally helped worked to increase the surge capacity and mobilized equipment and supplies a month back. Every time I finished my visit I remember to experienced a throbbing pain on my spine."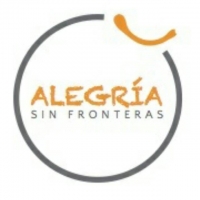 Alegría Sin Fronteras es una ONG sin ánimo de lucro que nace con el fin de llevar la Alegría allí donde es más necesario.
Nuestra Misión
Promover el empoderamiento, liderazgo comunitario, equidad de género en los países más desfavorecidos con el objetivo de permitir la mejora de la calidad de vida de la población.
Nuestra Visión
Desarrollar actividades que permitan la mejora de la calidad de vida de la población en los países más desfavorecidos. Priorizando intervenciones en el ámbito de la salud, educación y equidad de género.
Sensibilizar a la sociedad respecto a los problemas que se viven en los países con peores condiciones de vida, promoviendo la solidaridad entre las personas y los pueblos.
Nuestros Valores
Empatía, compromiso, constancia, Amor, solidaridad, empoderamiento, humildad, transparencia y ALEGRÍA