Somos el acto inmediato, la respuesta ciudadana al fracaso político.
No somos una herramienta para poner fin a la guerra o crear la paz.
Somos profesionales en emergencias y como voluntarios rescatamos a personas que huyen de
guerras y arriesgan sus vidas en el mar.
Y con muy poco hemos sido muy eficaces. Desde Diciembre de 2015 a Agosto de 2016, hemos
auxiliado a 50.000 personas llegadas por mar a Grecia.
Y si queda algún momento, por calidad humana y profesional, nuestro compromiso se extiende a
ayudar en todo lo que hemos podido en los centros de la isla de Lesbos y el Pireo.
Todo suma. Así nos hemos ganado vuestra confianza.
Confianza que esperamos también para afrontar nuevos retos.
El acuerdo UE/Turquía, unido a medidas adoptadas por los estados miembros, que dificultan o
impiden la entrada en su territorio a solicitantes de asilo, no aporta ninguna solución y promueve
otras vías aún más peligrosas y costosas para las personas refugiadas como la del Mediterráneo
central, la más mortal del planeta.
Gracias a las donaciones de amigos, ya tenemos la embarcación apropiada para
esas aguas. Ahora nos hace falta vuestra ayuda para la parte electrónica y la
motriz. Subirlas a un carro y desplazarnos en una nueva furgoneta.
Vamos a por 95.000 €.
Esta es la separación de los costes del proyecto…
Electrónica (Sonda, radar, quantum, radio, antenas, instalación) 7.000
Motores 2X 200 HP, dirección hidráulica, instalación del motor y su electrónica. 40.500
Remolque 2.500
Furgoneta 150 CV, 4WD. Apta para equipo de seis personas. 45.000
We are the frontline, the citizens' response to political failure.
We are not a tool to end war nor to create peace.
We are professional emergency personnel who volunteer to rescue
those fleeing war and risking their lives at sea to do so.
And with very little we have been very effective. From December 2015 to August 2016,we have
assisted 50,000 people who arrived by sea to Greece.
And during spare moments, due to our human and professional qualities, our commitment
extends to help all that we can in the centers of the islands of Lesbos and Piraeus.
It all adds up. Thus we earned your trust.
Trust that we also hope to receive to meet new challenges.
The EU / Turkey agreement, coupled with measures taken by member states, hinders or prevents
the entry into its territory to asylum seekers, providing no solution and promoting even more
dangerous and costly alternatives for refugees such as via the central Mediterranean, the
deadliest on the planet.
Thanks to the friends donations, we have the right boat for those waters.
Now we need your help for the electronics and motor. Loading them to a trailer
and moving with a new van.
We're going for 95.000 €.
This is the breakdown of the project budget ...
Electronics (sounder, radar, quantum, radio, antennas, installation). 7.000
2X 200 HP motors, hydraulic steering, engine installation and electronics. 40.500
Trailer. 2.500
Van 150 hp, 4WD. Suitable for team of six people. 45.000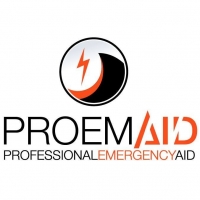 PROEM AID ESTA FORMADO POR UN EQUIPO DE PROFESIONALES DE LA EMERGENCIA, QUE HAN VIAJADO A LESBOS PARA LLEVARA  A CABO FUNCIONES DE AYUDA , RESCATE Y SALVAMENTO. 
CADA DÍA CIENTOS DE PERSONAS REFUGIADAS LLEGAN A LAS PLAYAS DE ESTA ISLA GRIEGA. LA LABOR QUE LLEVA A CABO PROEMAID ES INDISPENSABLE EN LOS NÚMEROSOS CASOS DE NAUFRAGIO QUE SE DAN