To benefit
Associació d'Acció Social DISCAN
Category
Discapacidad física
Terapia Animal
Infancia
Enfermedades raras
Biel needs his assistance dog.
Biel is, among many other things, a brave 7-year-old boy, very fighter, cheerful, happy and everyone's friend. But Biel is also a boy with infantile cerebral palsy, diagnosed with epilepsy, tetraparesia and hydrocephalus, due to a premature delivery without oxygen and a subsequent stroke that almost leaves him in a vegetative state.
The aid for therapies in Spain is absolutely insufficient and in Catalonia these are limited to the age of 5 years.
Biel requires orthopedic devices with very high costs between 2,500 and 8,000 euros, such as adapted bicycles or walkers so as not to lose the little muscle in the legs with which he tries to move, manual and electric wheelchairs for school and home.
For long journeys it will be necessary to buy a van and make a special adaptation; the cost of the adaptation already rises to 15,000 euros.
He constantly needs all kind of therapies and medical services: physiotherapy, speech therapy, hippo-therapy, occupational therapy, music therapy.
Jordi and Magali, Biel's parents, are financially drowned but they can't stop fighting in order to offer the best quality of life to him and his brother.
Now Biel needs Enzo, an assistance dog that will accompany him everywhere. This DISCAN dog is trained to offer the help that Biel needs and give him more autonomy in his daily activities. In addition, Enzo will help him during small trips and when he has epileptic crisis. The cost of an assistance dog is € 13,125, and the family must assume a total of € 5,662.
Somehow we have the opportunity to do it, to help Biel continue to progress as he has done so far, struggling in his day to day to advance and feel the pleasure of being autonomous together with his friends and classmates. Because Biel is a fighter.
Can you help us make it possible?
You can follow Biel: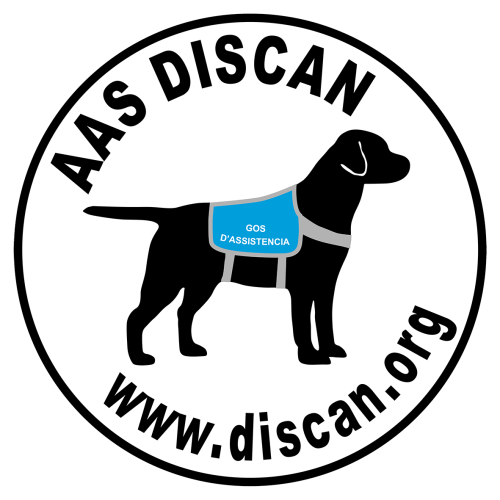 Entidad sin ánimo de lucro dedicada al adiestramiento de perros de asistencia para personas con discapacidad y a la realización de programas de intervención asistida con animales dirigidos al colectivo del tercer sector social.
Hemos entregado y acreditado un total de 21 perros de asistencia en diferentes comunidades de España, trabajando de manera rigurosa y con unos estándares de bienestar animal para que, una vez el perro de asistencia está con su familia, creen el binomio perfecto.
Trabajamos totalmente en positivo, velando siempre por la buena salud física y emocional de nuestros perros.
Estamos acreditados en la Generalitat de Catalunya para acreditar los 5 tipos de perros de asistencia existentes: perro guía, perro de servicio, perro de autismo, perro señal y perro de alerta médica.
Además, becamos a las familias más del 60% del coste total de un perro de asistencia, que oscila entre los 15.000 y los 18.000 €, y creemos firmemente que el presupuesto no debe recaer en ellos.