Your contribution has tax benefits of up to 80%
Continuando con su fiel trayectoria en la organización de cursos de formación, investigación y diversidad de proyectos, ANDADE ha abierto el primer Banco de Prótesis oficial en España, con carácter solidario y humanitario, para cubrir tanto las urgentes necesidades de las personas amputadas en territorios inmersos en conflictos bélicos, como Siria, Somalia, Liberia, etc., como las de quienes viven en países con bolsas de pobreza extrema. Son componentes protésicos ya usados, pero en buen estado y otras ayudas técnicas que, según la normativa española, está prohibido por ley reutilizar en pacientes amputados en España. No podemos consentir que éstos sean tirados a los puntos limpios mientras en países con problemáticas como las descritas estos amputados tienen nula o mínima movilidad, por no tener ni una silla de ruedas.
ANDADE ya envió en 2016, a través de Médicos del Mundo, 11 sillas de ruedas y otras ayudas técnicas a los Campamentos Saharauis.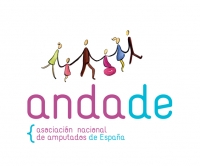 ANDADE es una asociación de ámbito nacional, sin ánimo de lucro, que engloba a todo el colectivo de personas amputadas y con agenesia: adultos y niños, miembro superior y miembro inferior.
En noviembre de 2015 ha sido declarada Entidad de Utilidad Pública por el Ministerio del Interior y lleva trabajando desde 2007 con el objetivo de luchar por los derechos de las personas que han sufrido alguna amputación en sus miembros, para ayudarles en su proceso de recuperación y demostrarles que se puede seguir viviendo después de una amputación, bien sea traumática o por una enfermedad común.
Donators
(12)
Hidden donation
966 days ago