"Making sure kids with cancer never lose their smile"
Fundación Aladina is a non-profit Spanish organisation founded in 2005, whose aim is to make sure that children fighting against cancer never lose their smiles. Aladina also works with the families to make the long stays at the hospital more comfortable. The organization´s main goal is to help the children and their families through three integral means of support: emotional, material and psychological.
Founder of Aladina, Paco Arango narrates that he came up with the name of foundation watching a popular series for kids "Ala...dina" ...in his own words:
"Ala…Dina!" was a successful television series starring Paz Padilla that I created and produced for TVE. It was about Aladina, a genie in a lamp who had a hard time with her magic lessons, and was pretty much a complete mess. I gave the foundation this name for two reasons: children enjoyed the series, and above all, it had magic–a lot of magic."
Today, Fundación Aladina is a reality that helps more than 1,500 children and their families year after year throughout Spain within 12 partnership hospitals.
Please, take a moment and support this wonderful cause with a hopeful spirit full of miracles!!!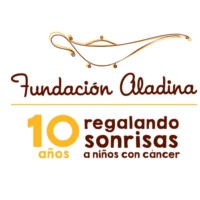 La Fundación Aladina, es una entidad privada sin ánimo de lucro creada en 2005 con el objetivo de ayudar a niños y adolescentes enfermos de cáncer y a sus familias, proporcionándoles apoyo integral: material, psicológico y emocional.